W.S. with Gladys.
We are happy to receive the visit of Pioneer maestra of Luxembourg; Gladys Fernandez. It is a short stop, but we wait for many ladies and gents to welcome her.
Schedule
Date
Time
Title
For
Fri. 3/Dec.
19:00-21:00
Floor Navigation of Great Maestros.
For couples
Sat. 4/Dec.
13:00-14:15
Technique for Ladies 1
Individuals (Ladies & Gentlemen)
14:30-15:45
Technique for Ladies 2
Individuals (Ladies & Gentlemen)
16:00-18:00
Improvisation technique:
Creativity and Dinamica
For couples
★Participants are invited to "Guided Pràctica" on Sat. 4/Dec. for free.
Price List
| | | |
| --- | --- | --- |
| Workshops | Single student | Couple student |
| W.S. Technique x1 | 25 € | 40 € for couple |
| W.S. Technique x2 | 40 € | 75 € for couple |
| W.S. for Couples x1 | —— | 75 € for couple |
| W.S. for Couples x2 | —— | 140€ for couple |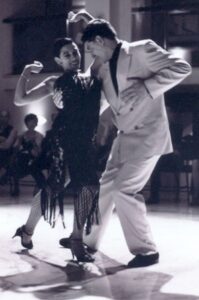 GLADYS FERNANDEZ
Argentine teacher with an extensive background in classical andcontemporary dance* She was trained in Tango by the late greatest masters of Buenos Aires and the popular dancers- the milongueros.
Among the earliest tango teachers in Europe since 1991, she has worked ceaselessly in Italy, The Netherlands, Luxembourg and Belgium. Her work is recognized internationally as making an importantcontribution to the genesis and development of tango throughout Asian, Indian and Middle East regions. The lasting impact of her work in Asia means that it is particularly appreciated by students and regional teachers alike who are trained in her method. She has also impassioned and inspired younger generations for tango (working in Milan at Adrianna Borriello's Company, in Brussels as a Maestra in Rosas and in Parts at the Theater Royale de la Monnaie and the Academy of Performing Arts of Hong Kong).
In addition to her giving numerous seminars and workshops in major cities, she has traveled with the greatest masters*** giving lessons and performances. She danced on tour with the Hyperion orchestra in Italy and abroad with the Color Tango orchestra of Buenos Aires, the orchestra by Juan Jose Mosalini of Paris, Veritango by Maestro Alfredo Marcucci in Belgium (bandoneonista of Di Sarli) and with the famous Sexteto Canyengue of Amsterdam, directed by Karel Craayenhoff, disciple of Maestro Osvaldo Pugliese. In 1997 she participated in the festival "Tangofolies", in a top masters' team in Lausanne, Switzerland, introducing the first workshops as "ladies techniques" mentor. Since then, Gladys is particularly requested to teach women -her speciality-and couples techniques, as her method combines pedagogy, musicality and Salon Style, along with the traditional style of couples and the codesof the salon. Gladys is an established cultural ambassador, with thirty years of tango experience, and is blessed with sophisticated elegance of movement. She has recently relocated to Sardinia island, promoting tango activites all over Italy in cooperation with the tango schools and also coaching the local instructors.