Welcome to Tango Argentino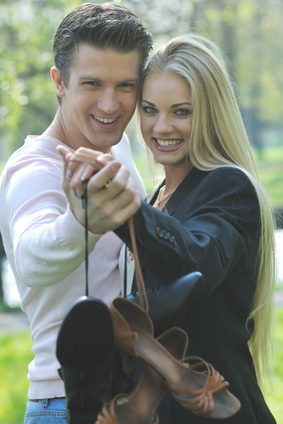 Tango was born 19th century in Buenos Aires; capital city of Argentina.
After while Tango spread among European countries through Paris. And it's getting more popular all around the world, as the most romantic dance. Now you can share "El Abrazo" (Tango Embrase), hear of  the music and enjoy dance Tango at more than 80 countries.  (More history about Tango Argentino.)
Club Tango Argentino Luxembourg will support your start of Tango organizing social dancing (milonga), couses and events. (About our club Tango Argentino Luxembourg.)
  Next chance to start Tango?  
★Next Trimester starts on 19/Sep. 2022
★Trial lesson for absolute Beginners. 1st & 3rd Saturday of month.
  F.A.Q.  
 1)Q: I have never been dancing; will I be able to follow a Tango class??
A: Don't worry. Teachers will support you. Beginners are always welcome.
2) Q: How should I dress to come to the class?? And what kind of shoes should I wear??
A: Wear some comfortable clothes. They should allow you to move easily. As we stand close to our partner while dancing, so need to stay our clothes (and our own body of course) should be clean and smell nice. You don't have to wear proper tango shoes during your first classes. However pay attention to wear shoes with the soles of which will allow you to pivot (that means no running or sport shoes).
3)Q: Can we join as a couple??
A: Of course, you can. Just don't forget that in the Beginners' and Intermediate levels we'll do partner changes in order to improve your dancing.
4)Q: Can I join the class without a partner??
A:Yes, you're welcome to come on your own to any OPEN CLASS and PRACTICA.  And for WEEKLY COURSES, please write beforehand to contact. We try to balance the number of men and women in the class in the interest of all.
5)Q: Do I need prior reservation for a trial class??
A: It's not compulsory, but we recommend it. If it's fully booked we can't receive the people without reservation.
6) Q: How long does it take to learn tango?
A: Ah, the old zen question? What is the sound of one hand dancing in the forest? Well, it will depend on how often you go to practicing/dancing more than your natural ability. (some people goes once a week, someone five times). Also on whether you take private tuition, etc.  However, we're sure that you'll have a lot of fun during the whole learning process.
7)Q: What is the etiquette at a milonga?
A: Don't worry about it. In our class we'll make some tuition about dancing in a Milonga (social dancing) and the "Milonga code" (how to behave in a Milonga).
… About more questions and doubt, please don't hesitate to write us → Contact Us.